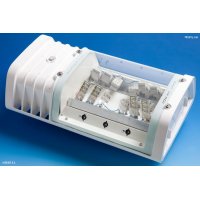 AviLED
Our latest innovation in the field of lighting for poultry housing: the Aviled® full-LED fixture which uses LEDs alone to produce the light.
When developing the Aviled® fixture, Agrilight b.v. chose to use the very latest LED technologies. As a result, when you use the Aviled® fixture you can achieve energy savings of more than 30% compared with your current conventional lighting system. The difference in service life is also impressive.

Whereas the conventional lamps used in the poultry sector last for around 10,000 hours, the Aviled® fixture has a service life of more than 60,000 hours. The fact that you do not have to change the lamps so often adds up to considerable savings on labour. The light leven of the Aviled® fixture is also dimmable from 100% to 10% with a 0-10 VDS. For example our IFL10R. Thanks to its excellent dimmability, it is very easy to set the required lighting regime in the poultry house. Good lighting is an important factor in animal welfare as the correct lighting levels help keep the birds calm, which in turn helps to limit losses.
​
Models
The standard Aviled® has 44 LEDs which give off warm, white monochromatic light. The Aviled® is also available as the Aviled® Blue which has six blue LEDs in addition to the 44 standard LEDs. These blue LEDs emit a well-distributed blue light that functions as a bird catching light. The inclusion of this bird catching light means that it is no longer necessary to install two separate fixtures, resulting in considerable savings in terms of time and installation costs.
Product Videos
1 video
Related categories Aviled
1 Category
Lighting
Related Products
1 Product
Other products of AGRILIGHT B.V.
1 producto
AGRILIGHT B.V.

Agrilight® is the expert in the field of lighting for livestock housing and agricultural buildings. Based on professional, independent research and in collaboration with agricultural specialists, distributors, installers and livestock farmers, Agrilight b.v. has developed a complete range of lights which are capable of providing optimum, uniform and efficient lighting in your livestock housing with just a single row of fixtures. Agrilight® fixtures are manufactured in the Netherlands. Working in collaboration with our dealers worldwide, we can supply you with a lighting installation designed to your precise specifications.
In addition to its headquarters in the Netherlands, Agrilight®also has offices in Canada. By learning from one another's knowledge and experience, we are able to provide livestock farmers worldwide with the best possible advice about light in animal housing. Whether you are renovating an old building or constructing a new one, Agrilight® can provide tailor-made advice...
See company
Price and product availability