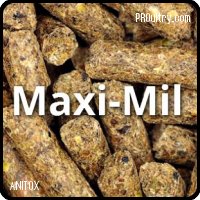 Three-in-one milling efficiency Milling Processing Aid By improving the overall efficiency of the milling and pelleting process, the Maxi-Mil product portfolio brings benefits to all points of the feed chain – from producers to users. Lower manufacturing costs for feed mills Better quality pellets for producers, for optimal feed intake and more efficient growth Maxi-Mil is handled by the dedicated Anitox Feed Milling technology team. Their years of experience, and in-depth knowledge of the product portfolio and the whole feed manufacturing process ensures Maxi-Mil users benefit from the most suitable product for each situation. Applied to feed as part of the Maxi-Mil Program, Maxi-Mil products can: -reduce process loss -improve pellet feed throughput -reduce pellet mill power consumption -improve pellet quality -inhibit mold growth According to the world- renowned International Research Institute of Feed Technology (IFF) in Braunschweig, Germany, the average 100,000t feed mill can save $150,000 by using the Maxi-Mil Program Description: Maxi-Mil is a liquid processing aid, used for the production of animal feed as part of the Anitox Maxi-Mil Program. With surfactant and lubrication characteristics, most variants within the Maxi-Mil product portfolio also offer mold inhibition. The ingredients in Maxi-Mil are non-toxic when used at recommended rates and FDA/EU approved for use in most animal species and human foods. There are no known residues and no withdrawal periods.
Product Videos
1 video
Related categories MAXI-MIL
1 Category
Binding materials
Related Products
1 Product
Other products of ANITOX
1 producto
ANITOX

Anitox – Solutions for Safer Feed and Food A World Leader in Pathogen Elimination Technology Anitox is an international corporation offering pathogen elimination, mould control and milling efficiency programmes for the feed milling and primary meat, egg and fish production industries. A pioneer in antimicrobial and mould control technology, through our extensive Research and Development emphasis, our new product development is on the leading edge of technology.
Manufacturing and distribution facilities are strategically located across the world. Anitox offers an international network dedicated to providing top quality programmes supported by talented Technical Service, Distribution, Engineering, Sales and Marketing, Laboratory Technician and Customer Support Representatives.
Having been acquired by the Riverside Company, Anitox is well positioned to expand its leadership capabilities and thus ensure that optimal solutions are delivered to our customers.
Anitox – Food Safer … from the...
See company
Price and product availability