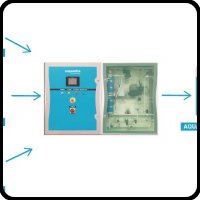 Aquactiva Solutions comercializa generadores para avicultura y ganadería que producen un biocida altamente eficiente, totalmente inocuo, a muy bajo coste mediante una electrólisis de membrana patentada (sólo a partir de agua, sal y electricidad).
PRINCIPALES CARACTERÍSTICAS DEL DESINFECTANTE:
1-.EFICIENTE
> Altamente
eficiente para cualquier tipo de virus
(incluidos los corona- virus como el SARS-Cov-2)
, bacterias
(legionella, salmonella, listeria, etc.),
hongos, algas y biofilm.
2-.EFICAZ
> Con un poder de
desinfección hasta 100 veces superior al de la lejía
(hipoclorito).
Elimina patógenos en cuestión de segundos.
3-.INOCUO
> Totalmente
inocuo para el ser humano y el medio ambiente:
no requiere ninguna protección especial o medidas de prevención de riesgos, ni exige precaución alguna para su transporte, manipulación y aplicación.
Es 100% ecológico y biodegradable
.
4-. RENTABLE
> El
coste del desinfectante
producido por los generadores de AQUACTIVA es
inferior a 0,03 € por litro
, lo que garantiza una amortización del equipo en menos de 18 meses.
APLICACIONES EN GRANJAS AVÍCOLAS:
Desinfección del agua de bebida de las aves.
Desinfección de las instalaciones ganaderas (hasta en presencia de animales).
Aplicación local en animales con enfermedades.
PRINCIPALES BENEFICIOS DE LA TECNOLOGÍA:
Mejora sensible del bienestar animal: Animales más sanos, con mayor inmunidad, menos enfermedades digestivas, respiratorias y de piel.
Reducción de las bajas, decomisos y mayor rendimiento en transporte y matadero.
Reducción importante del consumo de pienso (mejor aprovechamiento de los nutrientes) y mejora del índice de conversión (promedio del 10%).
Altamente eficaz contra la Salmonella, Coccidiosis, E. Coli, Legionella, H5N1 (gripe aviar), hongos, etc. - acreditado por varios estudios científicos y análisis en laboratorio
Cama más seca y reducción de las concentraciones en
Reducción del consumo de antibióticos, medicamentos y ácidos.
Animales más resistentes frente a enfermedades y fuertes desde el principio.
Product Catalog

Product Videos
1 video
Related categories Aquactiva ®
1 Category
Water, treatment and potabilization
Disinfecting material
Disinfectants
Related Products
1 Product
Other products of AQUACTIVA
1 producto
AQUACTIVA
AQUACTIVA, "Soluciones de desinfección para el sector ganadero"
La principal misión de AQUACTIVA® es proveer soluciones de desinfección sostenibles, eficientes y rentables para el sector agropecuario (y muy especialmente para el ganadero), agroalimentario, tratamiento de agua y de desinfección ambiental y de superficies.
Para ello, comercializa generadores que producen un biocida altamente eficiente contra cualquier tipo de patógenos (virus, bacterias, hongos, biofilm), totalmente inocuo, a muy bajo coste mediante una electrólisis de membrana patentada.
Aquactiva ha desarrollado, en colaboración con la Universidad de Valencia, un protocolo de aplicación específico para el sector avícola, y realiza instalaciones que permiten:
 
Dosificar el desinfectante "Aquactiva Neutro" directamente en el agua de bebida de las aves,
Producir el "Aquactiva Neutro" para la desinfección de las instalaciones ganaderas mediante pulverización/nebulización, hasta en presencia de los animales.
Sus...
See company
Price and product availability