LINO COMPACT 250 (5.000 eggs/h) - LIQUID EGG PASTEURIZATION Alerta
A product of AVITEC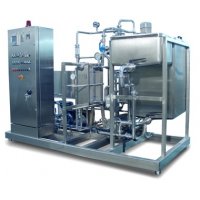 Avitec Lino Compact 250 is the
smallest
CONTINUOS FLOW liquid egg pasteurization plant available in the market.
"Continuous flow"
means that the product never stops into a tank for heating and then cooling(like required by the batch technology), the product is pushed by pumps through the plates of the heat exchanger where it is quickly heated and then quickly cooled down. Thanks to this system the reproduction of the bacteria which is typical to happen at temperatures around 37°C cannot take place as the heating and cooling are very quick (less than 30 seconds). Proteins are not denaturised and the total residual bacteria count is the lowest ever possible. Avitec LC250 is the
best solution
for starting activity in unknown market where the initial quantities to be produced can be very small. It is also a very smart solution for all those farms which have some eggs which cannot be sold at a good price because of low season, because their size is too small or too big, or because they are slighly cracked. All these low-profit eggs can be transformed into a high quality added value product which is really appreciated by hotel chains, catering services, bakeries, hospitals and many other food industries. Moreover every Avitec plant comes with full CE compliance, automatic control of heating temperature, safety alarm, product deviation and a complete set of stainless steel food-approved components such as:
Egg loading (with manual handler)
Automatic filter (optional)
Buffer starting tank
Low speed mixer
Main pump
Plate heat exchanger
Holding pipe with insulation
End buffer vat
Hot water production system
Chilled water production system
Automatic product deviation valve for CE safety
Control panel
Digital electronic temperature chart recorder
Network connection
Cleaning pump
Product Videos
1 video
Related categories LINO COMPACT 250 (5.000 eggs/h) - LIQUID EGG PASTEURIZATION
1 Category
Egg industrialization equipments (egg product)
Related Products
1 Product
Other products of AVITEC
1 producto
AVITEC

Avitec is a family company which started its activity in 1957. At the time there was no industrial technology for the production of egg, all was achieved just following the pace of nature. Soon the need of more industrialized technology, more steady results, more constant performance helped Avitec become the leader in the Italian market for the distribution of innovation in the poultry sector. Incubators, hatching systems, automatic egg packers and graders (from Moba Holland) and laying systems based on cage and, now, on alternative barn and free range equipment.
The demanding and very much developed Italian food industry was also requiring automated systems for the production of big quantity of liquid egg which is used in several preparations in the Italian cuisine. In the early Seventies Avitec started to design, develop and test, its first systems for liquid egg processing. First breakers, centrifuges and filters, then complete pasteurization lines, storage and filling lines.
What...
See company
Price and product availability