BETELGAN detergentes para explotaciones avícolas Alerta
A product of BETELGEUX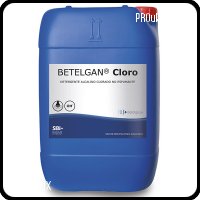 Ácidos
BETELGAN® Ácido Espuma
Detergente espumante de elevada acidez para la eliminación de incrustaciones minerales y orgánicas en todo tipo de superficies y maquinaria del sector ganadero. Está basado en ácido fosfórico aditivado con tensioactivos para mejorar sus propiedades de limpieza y su poder espumante.
BETELGAN® DK120
Detergente ácido no espumante para la limpieza de restos orgánicos y desincrustación de depósitos calcáreos y suciedad en general. Está indicado para aplicación en tanques de leche, máquinas de ordeño, depósitos de agua y conducciones de las instalaciones ganaderas. Está basado en ácido nítrico y ácido fosfórico , con agentes tensioactivos y agentes humectantes de alta mojabilidad que permiten reblandecer cualquier tipo de residuo.
Alcalinos
BETELGAN® A10
Detergente espumante cáustico de elevado poder de disolución de la materia orgánica. Está especialmente indicado para la eliminación de suciedad en naves, incubadoras y establos de las instalaciones ganaderas. Basado en en altas cantidades de hidróxido sódico, aditivado con secuestrantes, tensioactivos espumantes y humectantes que mejoran sus propiedades de limpieza.
Clorados
BETELGAN® Cloro
Detergente alcalino clorado no espumante de alto rendimiento para la eliminación de materia orgánica y con carácter higienizante. Está especialmente indicado para la eliminación de suciedad en instalaciones ganaderas, en circuitos de leche, máquinas de ordeño y tanques de almacenamiento. Está basado en una combinación sinérgica de hipoclorito sódico y alcalinos cáusticos, que le confieren una gran eficacia para la limpieza e higienización de circuitos y máquinas automáticas.
Neutros
BETELGAN® F4
Detergente espumante de muy baja alcalinidad, adecuado para limpiezas manuales y limpiezas de jaulas, comederos y utensilios de instalaciones ganaderas. Posee un gran poder de emulsión de grasas y suciedad. Basado en una mezcla equilibrada de tensioactivos espumantes, agentes secuestrantes y emulsificantes.

Product Catalog

Product Videos
1 video
Related categories BETELGAN detergentes para explotaciones avícolas
1 Category
Detergents
Related Products
1 Product
Other products of BETELGEUX
1 producto
BETELGEUX

Betelgeux is specialized in hygiene and food safety. We offer innovative and effective solutions to specific hygiene problems in food, cosmetic and pharmaceutical industries. We provide a wide range of products, equipment and services for industry hygiene and disinfection.
With over 25 years experience we understand the needs of our customers, providing specialized services required in each situation.
In its Customer Service Department, Betelgeux has a team of highly qualified experts who work closely with our customers to provide the most effective and profitable solutions to their hygiene needs.
Also, with our Technology and R&D Department, we rely strongly on research and innovation as tools for the development of new products, processes and services that better meet the needs of our customers.
The Technical Services Division offers our customers comprehensive services aimed towards continuous improvement in the different areas of hygiene and food safety. We cooperate in all...
See company
Price and product availability