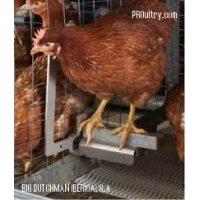 Incas 2
Báscula avícola para usar en manejo de ponedoras
Incas 2 es una báscula desarrollada por Big Dutchman que puede utilizarse en el manejo de gallinas ponedoras en suelo, en aviarios, en pequeños grupos y en los sistemas tradicionales de jaulas (cría y producción). Con ayuda de la sujeción universal de acero inoxidable, Incas 2 puede colgarse lateralmente en la separación de malla o colocarse sobre la malla de suelo desplazando la célula de pesaje. Por su reducido peso de unos 2 kg Incas 2 puede utilizarse fácilmente como báscula avícola portátil. Gracias a la pequeña distancia entre el suelo y la célula de pesaje con forma de aseladero, se realizan un gran número de mediciones y con ello se determina el peso de forma precisa.
IncasCompact
Báscula avícola para usar con el equipamiento AviMax para Broiler
IncasCompact es una báscula desarrollada por Big Dutchman para pollos Broiler en el sistema de jaulas AviMax. Está totalmente fabricada en acero inoxidable y tiene una plataforma de pesaje redonda con 15 cm de diámetro. IncasCompact se coloca simplemente sobre el suelo, donde se fija con sus dos ganchos. Por su construcción compacta también se emplea como báscula portátil para aves.
ComScale
El ordenador de pesaje para usar en avicultura
ComScale es un ordenador de pesaje que se utiliza como dispositivo independiente y se emplea de forma fija en la sala de control, o bien de forma portátil gracias al funcionamiento con batería. Tanto las básculas de aves Swing 20 y 70, como las básculas Incas 2 e IncasCompact se pueden conectar a ComScale. Todas las mediciones independientes registradas pueden traspasarse directamente
al ordenador de pesaje o, mediante un módulo de memoria, a un PC para así ser evaluadas de forma gráfica o en una tabla con el programa de software correspondiente (opcional). Comparando automáticamente con la curva teórica introducida previamente se reconocen de forma rápida las desviaciones no deseadas. Si se decide instalar la versión GSM, se tiene la ventaja de que los datos se transmiten al PC diariamente a través de un módem GSM (inalámbrico) o también al teléfono móvil como SMS.
Se registran los siguientes datos:
peso medio diario
número de pesajes por día
engorde diario
desviación estándar (g), coeficiente de variación (%) – indicación de desviación de pesos con respecto al valor medio
uniformidad
actualización automática del peso
Product Videos
1 video
Related categories BASCULAS AVICOLAS-SISTEMAS DE PESAJE
1 Category
Bird-weigh scales (manual or electronic)
Related Products
1 Product
Other products of BIG DUTCHMAN
1 producto
BIG DUTCHMAN
Since its inception in 1938, Big Dutchman has become the largest company of livestock facilities worldwide for poultry and pig farms. The use of waste is the most recent area of ​​activity.
The wide range of the company covers all types of housing systems, food and air. Practices and future solutions that combine animal welfare with economic benefits and energy sustainability is.
Big Dutchman looking for innovation and continuous improvement of its products using its extensive experience and expertise. All this serves to provide customers with reliable equipment, excellent quality and backed by the best professionals.
See company
Price and product availability