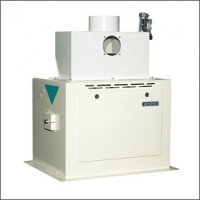 Bühler is a leading manufacturer of food processing and animal feed processing equipment. The Bühler drum magnet DFRT is designed to remove ferrous items from granular or mealy products. It is applied in the feed manufacturing industry, flour milling, as well as in oil mills and other areas involving similar products.
Excellent hygiene of end products via continuous self-cleaning.
A quality product starts with hygiene. The magnetic core installed in the drum magnet separator's rotating drum provides continuous self-cleaning of metal contaminants from material streams. This continuous removal of metal contaminants ensures the excellent hygiene and quality of the end product.
Clever design for convenient low maintenance.
The drum magnet separator is low maintenance: metal contaminants need only be periodically cleared from the iron outlet.
The adjustable segment-type feed gate makes selection of the desired material flow depth easier to handle.
The large access door makes maintenance and inspection more convenient.
Highest reliability through powerful magnets.
The drum magnet DFRT provides steady and reliable separation thanks to the highest quality permanent magnets. They ensure that magnetic force is retained without time limit or supervision, resulting in dependable removal of metal contaminants.
Sophisticated design for optimal separation efficiency.
Product Videos
1 video
Related categories Drum Magnet DFRT
1 Category
Feed mills
Related Products
1 Product
Other products of BUHLER S.A.
1 producto
BUHLER S.A.

Equipment for feed industry.
Bühler feed milling plants are of modular design and can be ideally customized to satisfy the feed requirements for a wide range of animal species. Bühler possesses the deep process knowledge and innovative machinery required to enable feed millers to supply high quality, safe feed to their customers with maximum efficiency.
The technology underlying Bühler animal feed processing installations and the sound process expertise of our engineers guarantee the production of animal feeds meeting the most rigorous hygiene requirements, while mitigating cross-contamination.
See company
Price and product availability