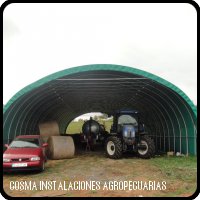 Cosma, la referencia en naves ganaderas tipo túnel en España, ha instalado centenares de sólidas naves tipo túnel en avicultura y todo tipo de ganaderías.
Su gran versatilidad y precio muy competitivo, hace que algunas de ellas simplemente se utilizan cómo naves complementarias para el almacenaje ganadero.

Precio, rapidez en el montaje y resistencia en un entorno ganadero, son algunas de las razones que han hecho de COSMA la referencia en naves tipo túnel para ganadería en España.
Product Photos Nave tunel COSMA original para almacenaje ganadero of COSMA INSTALACIONES AGROPECUARIAS

2 Photos
Related categories Nave tunel COSMA original para almacenaje ganadero
2 Categories
Poultry buildings
"Turn key" projects
Other products of COSMA INSTALACIONES AGROPECUARIAS
4 productos
COSMA INSTALACIONES AGROPECUARIAS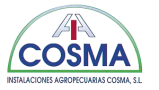 Instalaciones Agropecuarias Cosma, S.L. es una empresa dedicada a la fabricación y montaje de naves prefabricadas tipo túnel para ganadería. Con más de 25 años en el sector agropecuario, más de 550 naves avalan nuestra experiencia. Gracias a sus excepcionales condiciones de aislamiento y ventilación y debido a su relación calidad/precio es un tipo de nave ideal para la cría de cualquier tipo de animal.
Nuestras naves tienen un ancho estándar de 10 m, 12.5 m. y de 14 m. por la longitud que desee el cliente, siempre modulada cada 2 metros.
CARACTERÍSTICAS TÉCNICAS:
Estructura: Armazón de tubo rectangular, de acero galvanizado zenzimir, interna y externamente, ensamblando todo sobre pilares galvanizados de aproximadamente 2 metros de altura y anclada a la cimentación.
Cubierta: De lona plastificada de gran duración, soldable, ignífuga M" certificada por la CEE y con tratamiento especial contra los rayos U.V.A.  También podemos realizar la cubierta de chapa dependiendo de las necesidades...
See company
Price and product availability