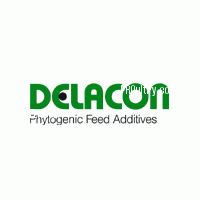 The phytogenic solution for profitable poultry fattening

Biostrong 510 is a Phytogenic Feed Additive consisting of a standardized combination of microencapsulated essential oils and high valued herbal substances aligned to the needs of poultry production.

The main effects of Biostrong 510 are the improved palatability of feed and the improved barn climate and reduced odor and ammonia.

With rising feed cost, animal producers and feedmills are looking into solutions to optimize performance, stabilize gut microflora and increase the digestibility of nutrients. DELACON is worldwide market leader in phytogenics that help farmers stay profitable and reduce environmental emissions.
Product Videos
1 video
Related categories Biostrong 510
1 Category
Essential fatty acids
Related Products
1 Product
Other products of Delacon-Invesvet
1 producto
Delacon-Invesvet

DELACON - Phytogenic Feed Additives
DELACON coined the term "phytogenic feed additives", and pioneered the development of original phytogenic feed additives for the production of intelligent feed products. This category bears our stamp, and we have been positioning it on the market for over twenty-five years.
DELACON's strategy is oriented toward organic and profitable growth. Our goal is to become and to remain the worldwide leading brand for botanical digestibility enhancers. For this purpose, we use mainly essential and vegetable oils, as well as a vast range of highly active herbs and spices with special aromatic and appetizing properties.
Today, we cooperate with leading research institutions and laboratories. Our phytogenic products are available worldwide from our distribution partners. Botanical additives that can be combined to the best advantage with locally available feed materials are developed in cooperation with leading feed producers: an ecologically as well as economically...
See company
Price and product availability