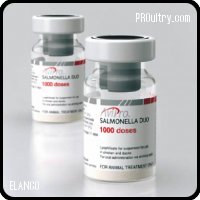 Infecciones por Salmonella
Salmonella viva
Lista: 92637
Tipo: AviPro SALMONELLA DUO
Dosis: 1000, 2000

Descripción:
Vacuna viva bivalente liofilizada para pollos (futuras ponedoras y reproductoras) y patos (engorde) contra las infecciones por Salmonella Enteritidis y Salmonella Typhimurium. Estabilidad genética para ambas cepas basada en el principio de "co-cultivo". Seguridad óptima debido a la tecnología de atenuación por "Mutación por Deriva Metabólica" (MDM). Fácil diferenciación de las cepas de campo. Protección temprana y duradera en frente a SE ST. Persistencia limitada en los órganos internos que se traduce en una restringida excreción de la cepa vacunal en el medio ambiente.

Indicación y administración:
Debido a su vía de aplicación diferenciada (oral) induce la producción de altos niveles de IgA secretora en el tracto digestivo que promueve la inmunidad local, protegiendo las aves contra la infección y reinfección. Administración: agua de bebida desde el primer día de vida, sin estrés para las aves, que imita la ruta de la infección de campo.
Product Videos
1 video
Related categories AVIPRO - SALMONELLA DUO
1 Category
Salmonellosis
Related Products
1 Product
Other products of ELANCO
1 producto
ELANCO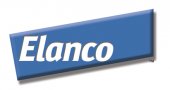 Innovación y liderazgo que mejoran la salud y el bienestar de los animales
Elanco es líder mundial en el desarrollo de productos y servicios que mejoran la salud y el bienestar de los animales.
Los productos de Elanco contribuyen a la producción de un suministro asequible y abundante de alimentos, al tiempo que ayudan a garantizar su seguridad. Además, nuestros nuevos e innovadores productos para mascotas ayudan a que los animales de compañía vivan más tiempo, más sanos y con mayor calidad de vida.
Nuestra experiencia de medio siglo en productos innovadores, servicios y asociaciones a nivel global ayuda a hacer realidad nuestra visión de alimentos y compañía que enriquecen la vida. Elanco tiene su base de operaciones global en sus oficinas centrales de Greenfield (Indiana) y emplea a más de 3.000 personas en más de 80 países. Elanco es una división de Eli Lilly and Company, una empresa farmacéutica multinacional incluida en la lista Fortune 500 con sede en Indianápolis y una tradición...
See company
Price and product availability