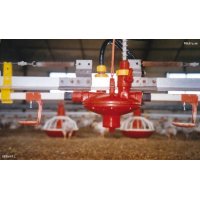 BEBEDERO PARA AVES "IBERLINE"

Sistema de bebederos lineales elevables para aves, de tetina con y sin cazoleta de un solo soporte para un mayor espacio libre para beber.
También copas para 1ª edad.
Acción lateral de 360º.
Product Catalog

Product Videos
1 video
Related categories BEBEDERO PARA AVES "IBERLINE"
1 Category
Drinkers
Related Products
1 Product
Other products of EUROGAN
1 producto
EUROGAN

Eurogan Ltd is a Spanish company founded in 1.964, which has been consolidated after more than 50 years of experience in the field of reliable, quality livestock equipment. A special effort on R+D+i has been done in order to increase the company competitiveness, developing our own technology and having our own team of engineers and fitters available for the installation and startup of farm projects, therefore guaranteeing the quality of our equipment and service. Eurogan took exportation as a priority, reaching an exterior market share of 70% of its sales, performing in more than 30 countries. Eurogan is focused in the design and development of every single equipment for livestock modern production. Our products have been tried an approved by our clients, who value our experience, along with our creativity and innovation. This way, year after year, Eurogan positioning itself as a leading company in the use and application of the latest, modern and innovative technologies to give service...
See company
Price and product availability