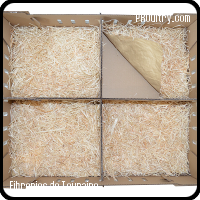 It is a layer of wood wool glued to kraft paper.
It is distribute in pack.

It is used as box liner for the transport of day old chicks.
It prevents the spreading of the feet for reducing the mortality rate, absorb the droppings better than paper or corrugated cardboard.
Product Catalog

Product Videos
1 video
Related categories Wood Wool Pad
1 Category
Special chick transport
Related Products
1 Product
Other products of Fibreries de Touraine
1 producto
Product Website
www.fibreries.com/tapis-fibre
Fibreries de Touraine

Fibreries de Touraine is specialist and manufacturer of wood wool since 1938. We are located in Chateau-la-Vallière in France.
We work with different companies from different sectors such as fruits and vegetables, artisan (taxidermist, glassmaker...) and also the poultry farming in Europe.
The traditionnal wood wool (packed in bale) is used as liner or bedding for the chicken but also as bedding for the transport of day old chick in their boxes.
Attentive to the feedbacks from our customers, in 1992, we have created a product ready to use : the Wood wool pad, certified for food contact.
The wood wool pad is a layer of wood wool glued to kraft paper which enable to save lot of time and handling of the wood wool arrangement in the transport box.
Moreover, it prevents the spread of chicks' feet and decrease their death rate during the transport.
See company
Price and product availability