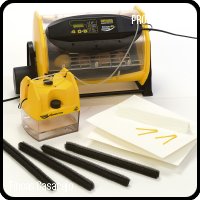 - Giro automático de huevos
- Pantalla digital
- Temperatura en grados centígrados y en Fahrenheit
- Control de enfriamiento de huevos.
Product Videos
1 video
Related categories INCUBADORA OCTAGON 20 ADVANCE AUTOMATICA
1 Category
Small and medium capacity incubators
Related Products
1 Product
Other products of FINCA CASAREJO, S.L.
1 producto
FINCA CASAREJO, S.L.

Finca Casarejo es una sociedad que pertenece a una familia amante de los animales y la naturaleza. Contamos con todos los permisos necesarios para la compra y venta de aves, tanto de corral como silvestres. Desde septiembre hasta junio, todos los meses importamos aves de Europa, principalmente gallinas y anátidas.
Además de animales, distribuimos productos relacionados con la avicultura. Somos el distribuidor en exclusiva para España y Portugal de las incubadoras alemanas HEKA , posiblemente las mejoras incubadoras del mercado, así como de los productos alemanes SOLLFRANK. También distribuimos en exclusiva para España las prestigiosas incubadoras BRINSEA así como toda su gama de productos.
Una de nuestras empresas, la editorial Sílaba Tónica, edita la revista AVIOCIO, siendo ésta el referente en la avicultura de ocio en España. Cuenta en la actualidad con más de mil suscriptores.
Diariamente actualizamos la página, dando entrada a los animales que recibimos en la finca y salida a aquellos...
See company
Price and product availability