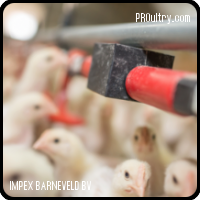 VIV Europe - Stand 11.B060
I-Flush; Total hygiene solution
Optimal hygiene is important in the poultry house and drinking water is herewith an important key. The I-Flush total hygiene solution consists of the I-Control flush computer, I-Flow pressure regulator, Temperature sensor and Biofilm sensor. The Temperature sensor and Biofilm sensor measure the data of the temperature and biofilm up-built within the drinking lines and send this information to the I-Control flush computer.

When the sensors measure abnormalities or when the regular flushing time has arrived, the flush computer sends a signal to the I-Flow pressure regulator to start flushing. This system is unique because of the possibility to automatically flush on deviations in the pre-set temperature and the amount of dirt in the drinking system. The data retrieved from the drinking lines help in providing fresh and clean drinking water for the poultry leading to better poultry.
Product Videos
1 video
Related categories I-Flush
1 Category
Drinkers
Related Products
1 Product
Other products of IMPEX BARNEVELD B.V.
1 producto
Product Website
https://www.impex.nl/nl
IMPEX BARNEVELD B.V.

Impex Barneveld BV is a pioneer and specialist in drinking equipment for poultry, pigs and livestock. Impex automatic AGRILAND® drinking systems originate from the need for efficient animal breeding automation and are perfected by our technical staff with more than 45 years of experience in the coordination of automation for poultry and pig management.
 
It speaks for itself that Barneveld and surrounding area with its intensive animal production the ideal location is for IMPEX Barneveld BV. It is in this agricultural area where the need for efficient animal mechanization arose. Both this need and signals from the field, coupled with the surrounding breeding farms, form the basis of our complete product range.
 
Each product leaving our factory is guaranteed for reliability and long-life, supported by our IMPEX service department. The 100% service of our technical department assures optimal functioning of our automation systems.
 
In addition to its home market, Impex...
See company
Price and product availability