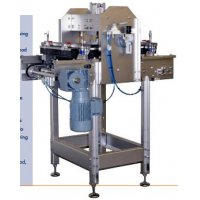 CLEANchick®a lot of benefits in one unit
Important topics for the modern hatchery. Thinking ahead is the best strategy. Improving the processes in every possible way. The latest result of Innovatec's thinking ahead is the CLEANchick®.

The CLEANchick® detects living embryos during the candling process. Only viable eggs will be hatched. Non viable eggs like dead in shell, infertile eggs and bangers, will be removed.

In particular the removal of bangers brings a lot of benefits. Optimizing the level of bio security, dry and clean chicks and minimizing
antibiotics are the most important.

That's what Innovatec means by think ahead, think CLEANchick®.

How to
... increase bio security
... realize the best chick quality
... to reduce antibiotics

For every hatchery the right solution
The CLEANchick® can be supplied for as well small or medium sized hatcheries as fully automated hatcheries. The benefits are the same.

Depending on the capacity the CLEANchick®can be integrated in a candling transfer equipment series ACTL or ACT.

In combination with the Automatic Backfilling unit the efficiency will be further increased. An optimal filling and an even heat-load of the hatcher basket is ensured.

A well thought product line has a great influence on the hatchery results. Results in increasing bio security, saving building costs, reducing energy and water but also labor costs.

If you are interested how to optimize your hatchery, Innovatec will hatch a plan that exceeds your expectations.
Think ahead, think Innovatec.
Product Videos
1 video
Related categories CLEANchick
1 Category
Automatic fertile egg detectors
Related Products
1 Product
Other products of INNOVATEC B.V.
1 producto
INNOVATEC B.V.

Leading Provider:
Innovatec is the leading provider of production improvement solutions for the hatchery industry. Thus enabling you to maximize your revenues.
Innovator:
Innovatec, as the established innovator, and engineering company, has deployed over 950 customised hatchery automation solutions in over 40 countries worldwide.
Innovatec's Mission:
Innovatec is in the business of providing you with expert advice on how to improve production in the Hatchery Industry. We ensure that you reduce spend and reap the economic benefits from the lowest total cost of ownership.
About us:
Founded in 1991, Innovatec has its development, manufacturing and service centre in Utrecht, the Netherlands. Our dedicated team and a worldwide network of agents and partners service our clients all over the world.
See company
Price and product availability