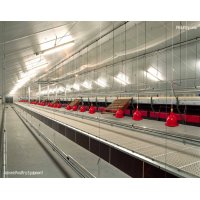 COMFORT 3® AVIARY SYSTEM

The Comfort 3 aviary system has been specially designed to create more living space in the house. A manure conveyor with slats is placed above the Premium+® laying nests. Stairs are attached to the sides so the hens can move upwards more easily.
Product Videos
1 video
Related categories COMFORT 3® AVIARY SYSTEM
1 Category
Aviaries for laying hens (in production)
Related Products
1 Product
Other products of Jansen Poultry Equipment
1 producto
Jansen Poultry Equipment

Jansen Poultry Equipment was founded in 1986 by Mr A. H. Jansen for development and production of the first automatic laying nests. With his knowledge of technology and poultry, Mr Jansen succeeded in developing the most sought-after laying next. Today the company offers a wide range of poultry systems and has grown to become a flourishing international company with its headquarters located in the Netherlands.
The current vision of Jansen Poultry Equipment is still the same as it was when A. H. Jansen began the company. Optimal production results are inextricably tied to the behaviour, habits and health of the animals. New systems are developed with optimal utilization of the knowledge of technology and poultry available within the company. Product development goes hand in hand with research and intensive collaboration between poultry specialists and technical developers.
Our ultimate goal is to provide customers with systems that enable them to attain optimal production results. We...
See company
Price and product availability