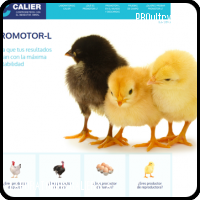 Get the maximum profit out of your value chain
HIGH DIGESTIBILITY AMINO ACIDS
It contains all the necessary amino acids, essential and nonessential, for the best development of the birds. All the amino acids are in levorotatory form, which confers a fast availability and high digestibility.
HIGH CONCENTRATION
The amounts of each amino acid are well-adjusted, without an excess, to be a perfect supplement to the diet at certain times of the production cycle of broilers, layers and breeder hens.
HIGH SOLUBILITY
Its completely soluble in order to achieve better application avoiding any problems in tanks and water pipes. Other products eventually precipitate and cause clogging problems in pipes.
HIGH STABILITY
The formula avoids fast degradation compounds, which may cause clogging problems in pipes. The product performance is assured for a long period of time and it does not affect the quality of the drinking water.
WELL BALANCED FORMULA
It adjusts to the needs of the birds following the concept of Ideal Protein, in order that the birds receive the necessary quantities of every amino acid, not more not less.
Product Catalog

Product Videos
1 video
Related categories PROMOTOR-L
1 Category
Poultry nutraceuticals: heat stroke protection
Related Products
1 Product
Other products of LABORATORIOS CALIER SA
1 producto
Product Website
http://www.promotorl.com/
LABORATORIOS CALIER SA

Calier es una empresa del Grupo Indukern dedicada a la investigación, fabricación, desarrollo y comercialización de productos farmacológicos y biológicos para animales de producción y animales de compañía.
Creada en 1968 y con sede en Les Franqueses del Vallès (Barcelona), obtuvo una facturación de 65 millones de euros en 2019.
Con más de 350 empleados en todo el mundo, tiene una gran presencia internacional. Cuenta con filiales en 11 países (Alemania, Argentina, Colombia, Italia, Marruecos, México, Polonia, Portugal, República Dominicana, Uruguay Venezuela) y exporta sus productos a más de 80. Además, opera con dos plantas de producción en España (Barcelona y León) y con dos más en el extranjero (Colombia y Uruguay).
Datos relevantes de Calier 
Empresa de salud y bienestar animal del Grupo Indukern
Año de fundación: 1968
Sede central: Les Franqueses del Vallès (Barcelona)
See company
Price and product availability