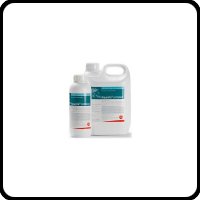 Aquavita® complex:
complemento vitamínico en solución oral
Composición por ml:
Vitamina A 100.000 U.I.
Vitamina D3 20.000 U.I.
Vitamina E 40 U.I.
Vitamina B1 3 mg
Vitamina B2 2 mg
Vitamina B6 2 mg
Vitamina B12 15 mcg
Vitamina K 3 mg
Pantotenato de calcio 10 mg
Nicotinamida 20 mg
Colina 50 mg
Vitamina C 50 mg
Indicaciones:
Aves, conejos, porcino, bovino, ovino y caprino: Prevención y tratamiento de deficiencias vitamínicas.
Vía de administración:
oral, en el agua de bebida, leche o directamente en la boca.
Posología:
Aves y conejos: 0,50-1 ml/litro agua de bebida.
Tiempo de espera:
ero días.
Presentación:
Envases con 1 y 5 litros.
Prescripción veterinaria: No precisa
Nº dE rEgISTro: 7.049
Product Catalog

Product Videos
1 video
Related categories Aquavita Complex
1 Category
Water and fat soluble vitamins
Related Products
1 Product
Other products of LABORATORIOS SYVA, S.A.
1 producto
LABORATORIOS SYVA, S.A.

Laboratorios SYVA es una empresa que se dedica a la investigación y fabricación de productos veterinarios para la prevención y el control de enfermedades animales. Son ya casi 70 años desde que comenzara la historia de esta empresa. Un proyecto que nació en 1941 y que ha ido marcando hitos a lo largo de estos años, hasta convertir a SYVA en uno de los principales laboratorios nacionales del sector. La dilatada experiencia de Laboratorios SYVA en la investigación, desarrollo y fabricación de medicamentos veterinarios, ha conducido a una situación privilegiada de la compañía, tanto dentro como fuera de nuestras fronteras. En la actualidad está presente en 50 países en todo el mundo.
See company
Price and product availability