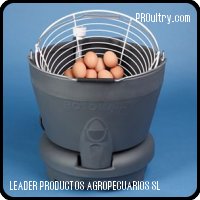 Egg washer protects egg fertility during washing as well as save time and effort when doing so, also with washing machine reduces the amount of broken eggs during cleaning with a very simple and convenient system using, also can work almost anywhere by controlling the temperature and the time the eggs are in the water and also works with any cleaning product for eggs.

A complete Rotomaid® egg washer includes a motorized base that ranges smoothly compatible with models 100 and 200, a bucket heater with adjustable thermostat and a basket for collecting and washing eggs.

Rotosan and Rotogard are products designed for washing, disinfection and protection of eggs independently of each other but when put together form the perfect combination for cleaning and protection of both the egg and the bird found inside.
Product Videos
1 video
Related categories Egg washer
1 Category
Egg washers
Related Products
1 Product
Other products of LEADER Productos Agropecuarios S.L.
1 producto
LEADER Productos Agropecuarios S.L.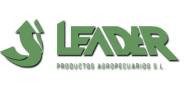 Gracias a su gran experiencia, con suministros y embarques a más de 70 países, Leader Cunillense ofrece al mercado avícola español una amplia gama de productos.
La empresa Leader Cunillense garantiza:
Una rápida y eficiente respuesta y ofertas desde sus oficinas
Las entregas se realizarán siempre a tiempo de acuerdo con las condiciones pactadas en su pedido.
Siempre tendrá asistencia técnica en caso de problemas o reclamaciones.
See company
Price and product availability