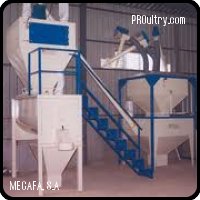 CHARACTERISTICS;
- Minimum sound level and vibration.

- Made of reinforced steel; direct transmission; sive easily replaceable; rotor with sping reversing device.

- Available for powers fro 7 HP to 150 HP.
Product Videos
1 video
Related categories VERTICAL HAMMER-MILLS
1 Category
Feed mills
Related Products
1 Product
Other products of MECAFA, S.A
1 producto
MECAFA, S.A

MECAFA, S.A. es una empresa con más de 25 años de experiencia en el diseño, construcción y montaje de fábricas para el sector agroalimentario y especialmente de alimentos para animales , así como todo tipo de maquinaria para mecanización, transporte, almacenaje y procesado de distintos productos.
Nuestro departamento de I + D cuenta con la tecnología más actual,que nos permite aportar la solución más adecuada a sus necesidades.
Todos los productos de Mecafa, están fabricados con maquinaria de la más avanzada tecnología y el personal más cualificado, lo que nos permite la mayor precisión en todo nuestro proceso productivo. Mecafa somete todos sus productos a un riguroso control de calidad, tanto en el diseño como en la fabricación y puesta en marcha.
Por todo esto y mucho más los productos Mecafa ofrecen la mayor fiabilidad con los más elevados rendimientos que le permitirán obtener muy bajos costes en la fabricación de su producto.
Entre las distintas aplicaciones que ofrece Mecafa...
See company
Price and product availability