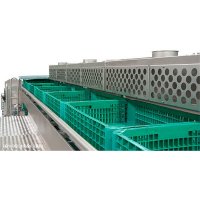 Modern poultry
crates
are made of durable, hygienic synthetic materials and can be re-used many times. The Meyn crate supply system can provide high capacity handling in a variety of flexible layouts and is easily integrated into existing production lines.
Meyn's range of crate washing machines covers all crate types and required capacities. Each crate washer is provided with a multi phase washing cycle, a final rinse with fresh water and automatic disinfection. Recycling of water in the first phase, combined with separation of pollution, effectively reduces the water and energy consumption without compromising the washing result.
Meyn's crate systems can be offered as complete solutions as well as stand alone equipment:
Automatic destackers
Semi automatic destacking lift
Crate weighing systems
Crate presoak and washing systems
Automatic crate stackers
Various types of crate conveyors
Operations:
The crates containing the birds are off-loaded manually and positioned onto the unloading platform. As an option the unloading platform can be equipped with an integrated accumulating roller track for stacked crates. Also a hydraulically controlled hinged side-board for a smooth adjustment of the platform to the truck height can be delivered. In order to reduce manual labour and extend the life span of the crates, the unloading platform can be equipped with destacking/stacking devices of which Meyn can deliver various models.
Moving the crates to the hanging department is realised by a combination of various conveyors, depending on the configuration and layout of the plant. Meyn's delivery programme comprises several types of transporters for the internal transportation of the crates.
The Meyn crate supply system is capable of buffering stacks of full crates on the unloading dock for improved continuity in the killing process. To increase flexibility in layout, the system can transport full crates around a variety of curves, such as for instance 90º or 180º curves. The birds are manually removed from the crate and are hung into the shackles for transport to the killing department. At the hanging location the conveyor is equipped with a 'start/stop' interrupt facility to enable the crates to be completely emptied. Once empty, the crates can be washed and disinfected while transported back to the truck.
Highlights:
High capacity handling in a variety of flexible layouts
Easily integrated into existing production lines
No standard trucks required
Many crate types available
Product Videos
1 video
Related categories Crate System
1 Category
1-.Arrival and Live Bird Handling
Related Products
1 Product
Other products of MEYN FOOD Spain
1 producto
MEYN FOOD Spain

Meyn has been fully dedicated to poultry processing for many years now. Our knowledge, equipment, systems and services are available all over the world. Today we are very proud to be the dedicated business partner of numerous renowned poultry processing companies in over a hundred countries. The world population continues to grow and the level of prosperity in upcoming markets is increasing rapidly. Global demand for animal protein is expected to grow accordingly. More mouths to feed means major market opportunities for your business, but it also brings serious challenges. How can you feed the world responsibly without jeopardizing your competitive edge and business continuity? SOLUTIONS THAT MAKE YOU MORE SUCCESSFUL Working with Meyn means you can rely on intelligent, innovative, customized and sustainable solutions that enable you to meet the challenges of today's market and tomorrow's society. Your success is our goal. Every day, all over the world.
See company
Price and product availability