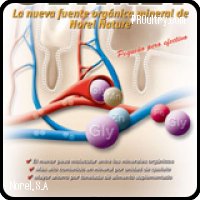 MINERALES TRAZA EN FORMA ORGÁNICA
Ver minerales traza en forma orgánica en en nutrición de AVES
Suplementar dietas con minerales traza en forma orgánica, actualmente, se está convirtiendo en una práctica cada vez más habitual en la industria de la alimentación animal. Se ha demostrado que hay una relación directa entre la nutrición de minerales traza y la inmunidad, la resistencia a enfermedades y la reproducción.
NOREL produce y suministra minerales traza en forma orgánica para nutrición animal altamente biodisponibles y económicamente efectivos. Estas moléculas son minerales quelados con aminoácidos, que resultan de la reacción de un ion de metal procedente de una sal soluble con un aminoácido específico (ligando): glicina para la gama GLYMET y metionina para la gama BIOMET. Tienen un ratio molar de 1 mol de metal unido a un mol de aminoácido para formar enlaces covalentes coordinados en una estructura de anillo. Ambos aminoácidos son inmediatamente identificados por el cuerpo, lo que hace que ambos quelatos sean altamente biodisponibles para ser usados por los tejidos corporales.
Los minerales quelados son conducidos conjuntamente con su aminoácido ligado a través de la pared intestinal durante su absorción. Un quelato no se digiere antes de su absorción. No se disocia en el estómago. Permanece igual que la molécula que fue ingerida y se absorbe, gracias a su pequeño tamaño (menos de 400 daltons en el caso de BIOMET y menos de 300 daltons cuando se trata de GLYMET), a través de las membranas de las paredes celulares de los microvellosidades. Gracias a esta ruta de absorción, se evitan interferencias entre los minerales antagonistas, los cuales compiten por el mismo lugar de absorción de la pared intestinal. Los quelatos son consideradas moléculas neutras (sin carga eléctrica) que incrementan la absorción intestinal de los elementos traza reduciendo la interferencia con otros compuestos susceptibles a formar complejos insolubles con otros iones traza.
Las agencias de protección ambiental de todo el mundo están presionando cada vez más para que se reduzca la cantidad de residuos minerales vertidos al suelo. Los minerales quelados permiten una menor inclusión en las dietas, evitar un alto nivel de excreción mineral y por tanto logar un menor impacto medioambiental.
MINERALES TRAZA EN FORMA ORGÁNICA EN NUTRICIÓN DE AVES
Los minerales traza tales como el zinc, el manganeso y el cobre están directamente relacionados en la formación de la matriz ósea y la cáscara del huevo. Ferket et al. (1992) observaron una reducción de la mortalidad y anormalidades en las patas de pavos alimentados con dietas suplementadas con metioninatos de zinc o manganeso. Hudson et al. (2004) observaron una mejora de la cáscara del huevo llevando a una mejora de 3,6 pollitos extra en reproductoras al final del periodo de puesta cuando se alimentaron con quelatos de zinc comparado con sulfatos de zinc. Virden et al. (2003) observaron una reducción de la mortalidad prematura de pollitos cuando se suplementó a las reproductoras con quelatos de zinc y manganeso.
El Zinc juega un papel importante en la inmunidad del animal. Ferket and Qureshi (1992) encontraron que quelatos de Zn y de Mn mejoran el sistema inmune de los pavos. Kidd (1996) observó mejoras en algunas funciones celulares relacionadas con la resistencia a las enfermedades cuando se suplementaban las dietas de pollitos broilers y reproductoras con metioninatos de Zn. Hudson et al. (2004) demostraron una mejora en la resistencia a la enfermedad y en la transferencia de anticuerpos a la progenie cuando a los pollitos broilers se les alimenta con quelatos de zinc. El modo de acción del Zinc en la respuesta inmune del animal se relaciona con la protección frente a la oxidación y a un mantenimiento de la membrana celular.
Al formular dietas con minerales quelados en lugar de fuentes inorgánicas, es posible reducir hasta el 30% del contenido total de minerales en la dieta. Los minerales quelados son una fuente de minerales traza de alta y constante calidad, con el beneficio extra que esto tiene en la reducción de niveles de estos minerales en las heces.
Product Videos
1 video
Related categories BIOMET Y GLYMET
1 Category
Minerals
Related Products
1 Product
Other products of NOREL
1 producto
NOREL
Empresa innovadora cuya actividad esta enfocada al desarrollo, fabricación y comercialización de aditivos y materias primas para la nutrición animal. En Norel nuestro principal objetivo es cubrir y satisfacer las necesidades de nuestros clientes.
See company
Price and product availability