featured
OLIMPE AGRI desinfección del agua por electrólisis Alerta
A product of OLIMPE AGRI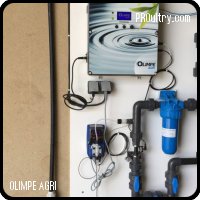 Olimpe-Agri
es un novedoso sistema de DESINFECCIÓN DEL AGUA POR ELECTROLISIS EN LINEA

Olimpe-Agri realiza dos acciones principales :

Genera un campo eléctrico dentro de la cédula de electrólisis que debilita y elimina de inmediato ciertas bacterias y virus tan sólo por el paso del agua.
Utiliza los propios minerales disueltos en el agua y en caso necesario los cloruros añadidos; (2kg de sal/10m3 de agua a tratar) y los transforma en una combinación de potentes oxidantes (entre 2,0 y 3,4mg/l de CLORO LIBRE), capaces de eliminar definitivamente las bacterias, virus y los micro-organismos del agua incrustados en las paredes de las canalizaciones, (eliminación total del biofilm) .

Olimpe-Agri garantiza un agua bacteriológicamente libre, en bebederos y tetinas y las canalizaciones sin biofilm.

El cloro activo producido por Olimpe-Agri tiene un potencial de desinfección que impide que el agua se recontamine en contacto con el aire.
Product Videos
1 video
Related categories OLIMPE AGRI desinfección del agua por electrólisis
1 Category
Water, denitrification systems
Water, dosing systems
Water, treatment and potabilization
Detergents
Related Products
1 Product
Other products of OLIMPE AGRI
1 producto
OLIMPE AGRI
TRATAMIENTO PROFESIONAL DEL AGUA PARA ANIMALES
AAIFIAGU es el distribuidor oficial en España de Olimpe-Agri.
AIFIAGU es una empresa ubicada en Lérida con una amplia experiencia en porcino y ganadería que conoce en profundidad las necesidades del sector ganadero por estar vinculados directamente a la ganadería por tradición familiar con la empresa Porcs et Porcelets SL desde hace décadas.
Somos distribuidores del producto OLIMPE AGRI de desinfección del agua por electrólisis en línea ya que hemos podido constatar en nuestras granjas propias y en otras su gran eficacia para conseguir un agua de máxima calidad a unos costes muy inferiores a los tratamientos tradicionales.
 
Solicítanos presupuesto sin compromiso o contacto de granjas en funcionamiento con la tecnología OLIMPE AGRI implantada.
See company
Price and product availability