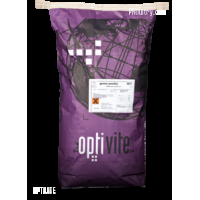 Genex Poultry: natural performance enhancement through effective microbial control
Features:
-Proven combination of non-medicinal anti-microbials
-Powerful anti-bacterial activity
-Species specific formula
-No residues, resistance or withdrawal
Uses:
Microbial challenge presents a significant problem to the efficient production of farm animals and birds. By reducing bacterial loading with Genex and promoting a healthy digestive system, fewer valuable nutrients are required to fuel the the immune response and can be preferentially used for improved growth and reproductive performance.
Benefits:
-Promotes a healthy digestive system
-Faster growth, fewer days to slaughter
-Improved reproductive efficiency
-Cleaner safer farm environment
Inclusion rates:
Poultry 2 - 4 kg per tonne
Product Videos
1 video
Related categories GENEX
1 Category
Intestinal microflora balance
Related Products
1 Product
Other products of OPTIVITE
1 producto
OPTIVITE
   Optivite was founded in 1987 and over twenty years grew to become one of the UK's largest independent animal nutrition companies. We specialise in the design, development, manufacture and distribution of non-hazardous, drug free ingredients and additives for the maintenance and enhancement of feed quality. Whether for microbial control, oxidation control or improvement in the nutrition of farm animals, our products are manufactured to the highest standards and with optimum environmental integrity.
   Optivite's heart is a team of nutritionists and animal husbandry specialists who provide expert advice, service and product knowledge to a diverse customer base.
   Farmers throughout the world are currently enjoying the financial and operational benefits provided by our quality range of products.
   Optivite supplies specialist feed components to integrators, feed compounders and home-mix farms across the UK and the world.
   Building...
See company
Price and product availability