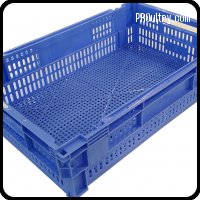 Caja avicola
para
transporte de pollitos
con capacidad de 100 pollitos de 1 día.
Anidables
al 50% en vacio
y apilables
con carga.
Material apto para contacto con alimentos, con
certificado de conformidad a la normativa europea.
Personalización
: incorporación del logo del cliente en la propia masa de la caja, marcación por tinta y estampado, colores especiales, fabricaciones exclusivas.
Sin pedido mínimo
para cualquier modelo de caja siempre que las tengamos en stock.
Datos técnicos:
Medidas externas: 60x40x15 cm
Peso (tara): 1,28 kg
Unidades por palet: 120 cajas
Unidades por trailer: 3.960 cajas
Product Videos
1 video
Related categories Chick crate
1 Category
1-.Arrival and Live Bird Handling
2-.Stunning, killing and defeathering
3-.Evisceration and chilling
4-.Grading and weighing
5-.Cut-up, Deboning, Skinning, Portioning and Slicing
6-.Cooling, Sorting, Packaging and end of line
Chick boxes
Related Products
1 Product
Other products of TEPSA
1 producto
TEPSA

TEPSA is a company belonging to Grupo Plasticos Ferro (GPF) with injection moulding and plastic welding technologies. Manufactures products aimed at the food processing industry.
See company
Price and product availability