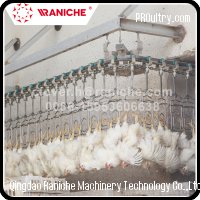 Application: chicken, broiler chicken, layer chicken, duck, goose
Production Capacity: 300-12,000 birds / hour

Power: 380V/ 220V, 50HZ / 60HZ, single phase / three phase (can be customized)

RANICHE complete Chicken Slaughtering Line is consist of manual killing, automatic scalding and plucking, semi-automatic evisceration, automatic pre-chilling, semi-automation dewatering, by-products processing and packing processing.

Main equipment included for completed processing line:
1. Living Birds Crate Conveying Processing Equipment
2. Slaughtering Processing Equipment
3. Evisceration Processing Equipment
4. Pre-chilling Processing Equipment
5. Cut-up Processing Equipment
5. By-products Processing Equipment

Remark:
1) Model and quantity of each machine, depending on the slaughtering capacity, are undetermined.
2) Raniche can provide you special solution design of whole chicken slaughtering processing line as your request.

For more details, please contact Ms. Clover via 0086-15953606638 or clover.h@raniche.com.
Product Photos 300 to 12000 BPH Poultry Slaughterhouse Chicken Slaughtering Line Machine of Qingdao Raniche Machinery Technology Co.,Ltd

1 Photo
Product Videos
1 video
Related categories 300 to 12000 BPH Poultry Slaughterhouse Chicken Slaughtering Line Machine
1 Category
1-.Arrival and Live Bird Handling
2-.Stunning, killing and defeathering
3-.Evisceration and chilling
4-.Grading and weighing
5-.Cut-up, Deboning, Skinning, Portioning and Slicing
6-.Cooling, Sorting, Packaging and end of line
8b-.Duck processing (and other birds)
9-.Microslaughter plants or equipment for "do it yourself" poultry slaugtering
Related Products
1 Product
Other products of Qingdao Raniche Machinery Technology Co.,Ltd
1 producto
Product Website
www.raniche.com
Qingdao Raniche Machinery Technology Co.,Ltd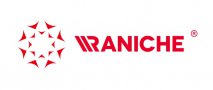 WHO WE ARE
   RANICHE is a professional manufacturer of Poultry Processing Equipment and integrated solutions provider of Automatic Poultry Processing System with more than 20 years experience in China, standing at the top 3 in the industry of Poultry Processing in China, and level A partner of main agricultural and pastoral groups in China in the past decades, like New Hope LIUHE Group, JINLUO Group, ECO Group, FAMBROS Group etc. For now, there are more than 700 Poultry Slaughtering Lines have been provided by our factory.
 
HOW WE WORK
   The factory is specialized in manufacturing various of poultry slaughtering machinery contained in the conveying processing, first slaughtering processing,  evisceration process, pre-chilling processing, cutting processing, grading and packing processing. With more than 300 workers in approximate 40,000sqm working place, RANICHE has full capacity to produce poultry slaughtering line...
See company
Price and product availability