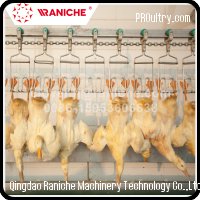 Application: duck
Production Capacity: 300-10000 birds / hour (as per customer's request)
Power: 380V/ 220V, 50HZ / 60HZ, single phase / three phase (can be customized)

Processing LineEquipment Needed
1. Living Birds Conveying Line
- Crate Conveyer
- Crate Washer
2. Slaughtering Line
- Chian Conveying Line
- Stunner
- Bleeding Trough
- Scalding Machine
- Plucking Machine
3. Waxing Line
- Waxdip Pool
- Wax Cooling Pool
- Dewaxer
4. Evisceration Line Chain Conveying Line
- Evisceration Trough
- Working Table
- Carcass Unloader
- Weighter
5. Pre-chilling Line Pre-chiller
- Carcass Collecting Trough
6. Cutup Line
- Cutter
- Working Table
7. Deboning Line
- Deboner
8. By-products Processing Line
- Gizzard Grease Seperator
- Gizzard Peeler
- Claw/Feet Peeler
9. Other Equipment
- Weight Grader
- Packing Machine
- Hook Washer

FAQ:
1. Q: What is the MOQ?
A: 1 set of single slaughtering machine, or 1 complete chicken or duck slaughtering line.
2. Q: What is the documents shipping with machine?
A: Commecial Invoice, Packing List, Bill of Lading, Certificate of Origin(FORM A, FORM E, or CO). Special certificate and inspection can be provided as per customer's requests.
3. Q: What is the payment terms?
A: T/T, L/C.
4. How long is cargo preparing time?
A: Within 15-20 days for single slaughtering machine, and with 60-90 days for complete slaughtering line. It will be subject to our factory's production scheduel.
5. Q: How do I make sure the safe trading?
A: Visit our factory, confirm we are big manufacturer of slaughter equipment, and top specialized in poultry chicken and duck slaughtering.
6. Q: How to visit your factory ?
A: Our office is located in Qingdao City, our factory is located in Zhucheng city, which is 150km away from our office. You can come to Qingdao Airport, Qingdao Railway Station. Then we will pick you up to our office and factory.
7. Q: Is it possible to visit a chicken or duck slaughtering plant or slaughterhouse in China?
A: We have installed over 700 chicken and duck slaughtering lines in China, and cooperated with mostly big poultry processing groups in China. We can arrange you to visit our domestic customer's slaughterhouse for checking our machine running.
8. Q: Is it possible for engineers to go abroad and provide installation service?
A: Two technical service engineers can be provided to go abroad to guide the installation, to ensure the
equipments complied with standard capacity and performance ratings.
9. Q: Have you provided or installed poultry slaughtering line abroad before?
A: Yes. Our slaughtering line have been provided to Indonesia, Nigeria,Thailand, Vietnam, the Phillipines, Russia, Mongolia, Uzbekistan. Our single slaughtering machines have been exported to Saura Arabic, United Arab Emirates, Sudan, and Malaysia.
10. Q: Can you provide working video of chicken slaughtering line or duck slaughtering line?
A: Yes. Contact me (named Clover) on Whatsapp or Wechat via 0086-15953606638 for videos now.
11 Q: Other questions?
A: Contact me via email or 0086-15953606638 for more information now.

For more details, please contact Ms. Clover via 0086-15953606638 or clover.h@raniche.com.
Product Photos 300BPH to 10000BPH Poultry Duck Slaughtering Processing Equipment for Slaughterh of Qingdao Raniche Machinery Technology Co.,Ltd

1 Photo
Product Catalog

Product Videos
1 video
Related categories 300BPH to 10000BPH Poultry Duck Slaughtering Processing Equipment for Slaughterh
1 Category
1-.Arrival and Live Bird Handling
2-.Stunning, killing and defeathering
3-.Evisceration and chilling
4-.Grading and weighing
5-.Cut-up, Deboning, Skinning, Portioning and Slicing
6-.Cooling, Sorting, Packaging and end of line
8b-.Duck processing (and other birds)
9-.Microslaughter plants or equipment for "do it yourself" poultry slaugtering
Related Products
1 Product
Other products of Qingdao Raniche Machinery Technology Co.,Ltd
1 producto
Product Website
www.raniche.com
Qingdao Raniche Machinery Technology Co.,Ltd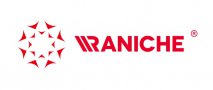 WHO WE ARE
   RANICHE is a professional manufacturer of Poultry Processing Equipment and integrated solutions provider of Automatic Poultry Processing System with more than 20 years experience in China, standing at the top 3 in the industry of Poultry Processing in China, and level A partner of main agricultural and pastoral groups in China in the past decades, like New Hope LIUHE Group, JINLUO Group, ECO Group, FAMBROS Group etc. For now, there are more than 700 Poultry Slaughtering Lines have been provided by our factory.
 
HOW WE WORK
   The factory is specialized in manufacturing various of poultry slaughtering machinery contained in the conveying processing, first slaughtering processing,  evisceration process, pre-chilling processing, cutting processing, grading and packing processing. With more than 300 workers in approximate 40,000sqm working place, RANICHE has full capacity to produce poultry slaughtering line...
See company
Price and product availability