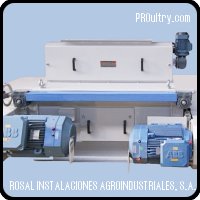 MOLINO DE RODILLOS MR
El molino de rodillos está especialmente recomendado en aquellas instalaciones que requieren una molturación homogénea con el menor porcentaje de finos como por ejemplo en plantas de alimento con fórmulas de ponedoras.
Product Catalog

Product Videos
1 video
Related categories MOLINO DE RODILLOS
1 Category
Feed mills
Related Products
1 Product
Other products of ROSAL INSTALACIONES AGROINDUSTRIALES, S.A.
1 producto
ROSAL INSTALACIONES AGROINDUSTRIALES, S.A.

Rosal is a company dedicated to the construction of complete feed mills since 1956 and with more than 400 references in the worldwide market. Furthermore, together with our ability to engineer, design and installation, we are focused on the manufacture of machinery that makes up a feed mill. We invite you to visit our website to know our range of machinery and services. For any questions or doubts, do not hesitate to contact us. We will be happy to help you.
See company
Price and product availability