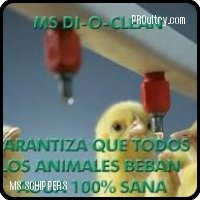 Di-O-Clean se aplica para el tratamiento de agua potable y para la limpieza de la red de agua potable.
Di-O-Clean consta de dos componentes que generan, una vez mezclados, un dióxido de cloro puro 99,9% disuelto en agua, sin cloro u otros subproductos nocivos.
Características del Di-O-Clean:
Elimina el biofilm y evita su reaparición con un uso continuado
Elimina las incrustaciones de hierro y manganeso en la red de agua potable
No es corrosivo en el uso en la red de agua potable
Es independiente del pH (efectivo en un rango de pH de 2 a 10)
Puede ser utilizado para el tratamiento de agua que contenga azufre
Es hasta un 260% más eficaz en comparación con los desinfectantes basados en cloro
Acción inmediata y radical contra microorganismos (bacterias, salmonela, levaduras, hongos y virus). Los microorganismos no pueden generar resistencia contra el Di-O-Clean
No se forman subproductos nocivos, tales como THM, HAA, Mutagen X y clorofenoles, como ocurre cuando se utiliza cloro
No altera ni el olor ni el sabor del agua, a diferencia del cloro
Es muy fácil de usar
Hace que del agua un nutriente seguro y valioso
Product Videos
1 video
Related categories Di-O-Clean Líquido
1 Category
Water, treatment and potabilization
Related Products
1 Product
Other products of SCHIPPERS AGRICOLA
1 producto
SCHIPPERS AGRICOLA

La empresa familiar Schippers es una innovadora organización de venta internacional con "Passion for Farming" (pasión por lo agrícola), que apuesta por la ganadería intensiva responsable. Schippers suministra un paquete total de productos y servicios para poder gestionar bien una empresa agraria. Con este paquete total, en combinación con las divisiones especializadas de productos, Schippers se convierte en un socio fiable con valor añadido, al que el agricultor siempre puede recurrir. De esta manera, Schippers desea optimizar el rendimiento de la empresa junto con el empresario. La actitud proactiva y de servicio orientada a los ganaderos continúa siendo la gran fortaleza de Schippers Groep.
La empresa se ha convertido en uno de los mayores proveedores para la ganadería intensiva. Una empresa profesional con nueve oficinas de venta en Europa, que se encuentra activa mundialmente, en nada menos que 40 países, y que cuenta con más de 250 empleados. Durante los 10 últimos años, Schippers...
See company
Price and product availability