featured
A product of TIBOT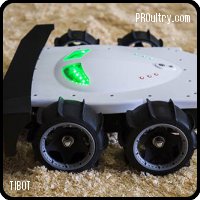 The first autonomous poultry-farming robot
Spoutnic is easy to use, requires no installation or specific configuration. Its all-terrain feature and compact size allow it to move under feed mechanisms and work on uneven litter.
The battery is recharged using a plug, thus allowing the robot to work 8 hours a day at slow, medium, or fast speed, depending on the flocks.
Main technical features
Obstacle detection and avoidance
Light and sound stimuli
8-hour battery life (lithium)
Water-, dust- and ammonia-resistant
6 speeds, depending on flock's training phase
Speed-management interface
Remote start-and-stop control
Battery level indicator
Service indicator
4-wheel drive equipped with brushless motor, for work on uneven litter
Weight: 10 kg
Compact size (56 × 63 × 18 cm), to move under feed mechanisms
Product Videos
1 video
Related categories SPOUTNIC
1 Category
Poultry robots
Related Products
1 Product
Other products of TIBOT
1 producto
TIBOT

Conceived by poultry farmers, designed by engineers
In 2015, Laetitia and Benoît called on Cimtech, a mechatronics engineering consulting firm located near Rennes (35), to assess the feasibility of a poultry-farming robot that could bring greater comfort and profitability to their daily work.
TIBOT technologies was born in May 2016: its goal is to develop solutions that make poultry farming easier.
See company
Price and product availability