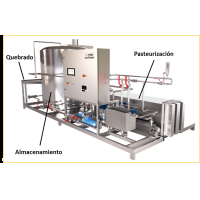 After farming… let's start processing!

Considering that egg processing is not only reserved for investors, ACTINI has launched an entry-level line. Designed for a capacity of 8,000 eggs per hour, the OVOCOMPACT® small line is perfectly suited to egg producers who wish to embark on this growing market represented by egg products.

This self-contained unit combines all the necessary equipment to produce high quality pasteurized egg.

With the OVOCOMPACT®, you can:
-process downgraded eggs and turn them into a safe pasteurized product with high added value
-diversify your business and work with food manufacturers whose needs in raw material are increasing
-or simply expand your product by using it as a secondary line for an additional activity of organic egg products production for instance

Pre-tested in our factory, this all-inclusive line is within the reach of small budgets, including those of small producers, with immediate profitability and return on investment.

The OVOCOMPACT® is the ideal solution to get started without fear.
Product Catalog

Product Videos
1 video
Related categories OVOCOMPACT
1 Category
Egg industrialization equipments (egg product)
Related Products
1 Product
Other products of ACTINI SAS
1 producto
ACTINI SAS

Our Customers at the heart of our development strategy Experience, expertise, quality and innovation are the foundations of development and success of our company. The engine of our work for more than 60 years: our Customers Our development has been naturally built around our Customers to provide the best service whatever area of the world they are. Proximity, Reactivity, Efficiency Our vision of Service: to support our Customers in all phases of their project. Sales and technical skills of our teams located at the 4 corners of the world will help you achieve your project in the best conditions.
See company
Price and product availability