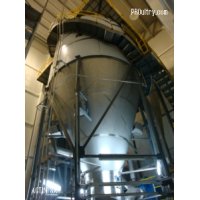 OVODRYER®: dried egg processing unit

Combined with a liquid egg processing line, the ACTINI Vertical Dryer offers the possibility of producing an egg powder of high quality and high value.

Our drying process has been developed in collaboration with manufacturers specialized in the production of powder to provide equipment that meets the expectations of today's markets and the most stringent export standards.
Goals

In designing this technology, our objectives were to:
-Produce whole, white and yolk with the same equipment
-Get a free flowing powder with exceptional dissolution capabilities
-Preserve the functional qualities of the egg without damaging fat
-Have a maximum microbial reduction for a longer shelf life
-Produce longer between cleanings

Egg powder, a product of the future:
With our patented vertical spray technology, ACTINI Ovodryer® can produce egg powder complying with the highest standards, offering unmatched dissolution capabilities and facilitating the use for Users.

Not only do these powders have shelf lives of 18 months for the whole egg and 36 months for the egg white, but they also retain the functional properties of fresh eggs such as foaming, gelling… High Whip, High Gel, Instant Powders… ACTINI Dryer allows you to produce products with high added value and offers differentiating factors among industrial users.

Because Processors are subject to constraints of space and time, Ovodryer® can handle all by itself whole, white and yolk for a period of 3 to 6 months between every two cleanings with its aseptic design avoiding powder deposits in the room.
Product Catalog

Product Videos
1 video
Related categories OVODRYER®
1 Category
Egg industrialization equipments (egg product)
Related Products
1 Product
Other products of ACTINI SAS
1 producto
ACTINI SAS

Our Customers at the heart of our development strategy Experience, expertise, quality and innovation are the foundations of development and success of our company. The engine of our work for more than 60 years: our Customers Our development has been naturally built around our Customers to provide the best service whatever area of the world they are. Proximity, Reactivity, Efficiency Our vision of Service: to support our Customers in all phases of their project. Sales and technical skills of our teams located at the 4 corners of the world will help you achieve your project in the best conditions.
See company
Price and product availability