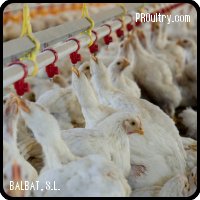 Capacidad de la tetina: 12/15 broilers/tetina
Líneas de tetinas: tubo de 3m con tetinas cada 15/20/25 cm
Regulador de presión de agua de fácil manejo.
Product Videos
1 video
Related categories BEBEDERO TETINA BROILERS
1 Category
Drinkers
Related Products
1 Product
Other products of BALBAT
1 producto
BALBAT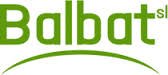 Balbat is a company engaged in the manufacture, marketing, sale and installation of materials for poultry and livestock.
Our headquarter is located in the province of Lleida (Spain), known for its farming traditions, its fruit, its olive trees and grain fields composed a rich and varied landscape.
"At the same time the farms that are scattered around the field explains the visitor that he is in a land of strong people, accustomed to hard work and long hours, in a "mainland" that exists in deep of Catalonia"
In this context BALBAT S.L. is born in the early 90s in order to offer a comprehensive service to all farmers who entrust us with the installation of their poultry farm offering our " know how", our professionalism and our many years of post- sale service .
The teams feeders and drinkers are among the most advanced of the market with exceptional quality and fully guaranteed .
We are specialized in quail, for this reason we have decided to go for the design of our own exclusive hopper...
See company
Price and product availability