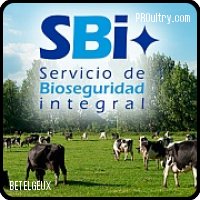 Betelgeux created the Biosafety SBI® comprehensive service , oriented to the implementation of practices to ensure biosafety service. This service allows basics approach for the protection of the health of livestock , such as cleaning and disinfection programs , pest control , water treatment , training, etc. The SBI® is a flexible model based on mutual trust , continuous collaboration with customers and professional service , direct . This service reduces costs associated with dedication and vaccination , since the established biosecurity programs , disease and infection are more controlled , increasing the effectiveness of treatments and avoiding production declines caused by these diseases.


Product Catalog

Product Videos
1 video
Related categories Biosafety integral Service SBi®
1 Category
Detergents
Related Products
1 Product
Other products of BETELGEUX
1 producto
BETELGEUX

Betelgeux is specialized in hygiene and food safety. We offer innovative and effective solutions to specific hygiene problems in food, cosmetic and pharmaceutical industries. We provide a wide range of products, equipment and services for industry hygiene and disinfection.
With over 25 years experience we understand the needs of our customers, providing specialized services required in each situation.
In its Customer Service Department, Betelgeux has a team of highly qualified experts who work closely with our customers to provide the most effective and profitable solutions to their hygiene needs.
Also, with our Technology and R&D Department, we rely strongly on research and innovation as tools for the development of new products, processes and services that better meet the needs of our customers.
The Technical Services Division offers our customers comprehensive services aimed towards continuous improvement in the different areas of hygiene and food safety. We cooperate in all...
See company
Price and product availability