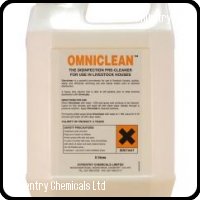 Omniclean is a powerful detergent cleaner and strong bactericide

Omniclean is the ideal first stage cleaner for animal housing before terminal disinfection takes place and should be used in conjunction with Omnicide.
It should be used to clean and disinfect surfaces and equipment in veterinary clinics and surgeries.
It may also be used to clean surfaces, equipment and utensils used in food processing industries,

Biocidal Activity

Omniclean is effective against a wide range of gram negative and gram-positive organisms including Salmonella typhi, Escherichia coli, Proteus vulgaris, Staphylococcus aureus and Pseudomonas aeruginosa.
Product Videos
1 video
Related categories OMNICLEAN
1 Category
Detergents
Related Products
1 Product
Other products of Coventry Chemicals Ltd
1 producto
Coventry Chemicals Ltd

Coventry Chemicals is a global leader in Bio-security and disinfection technology in veterinary and food processing sectors. Based on glutaraldehyde and quat-ammonium chemistries, the OMNICIDE family of disinfectants allows intensive growers worldwide to raise poultry, fish, swine, cattle and other species in safety by eradicating disease pathogens and preventing disease carry-over into fresh stocks.
 
See company
Price and product availability