featured
Ventilador de cono de gran caudal EOLO 60. El más eficiente del mundo. Alerta
A product of EXAFAN SAU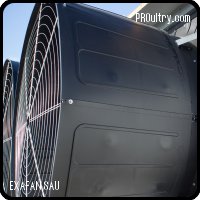 El ventilador de cono de gran caudal "EOLO 60", fabricado con materiales de gran fiabilidad y resistencia a la corrosión, ofrece excelentes resultados probados en niveles de trabajo exigentes, con un caudal máximo de 63.000 m3/h.
VENTAJAS
Eficiente energéticamente.
Grandes resultados.
Estudiado diseño.
Fácil instalación y montaje.
CARACTERÍSTICAS
- Sistema de fijación sobre el panel de cierre vertical de la nave: virola con doble marco vertical, paralelo a la pared interna de la parte interior, y otro marco que apoya en el corte sobre el murete.
- Cajeado en la virola, para embeber las chapas y transmitir los esfuerzos del ventilador a la estructura de la nave.
- Estructura de acero interna para la transmisión de esfuerzos a la estructura general de la nave.
- Cono en plástico (PP+fibra de vídrio) desmontable en 8 partes, autoclipable y apilable.
NOVEDADES
Disponible en versión con motor con accionamiento directo (sin correa).
Permite la variación de la velocidad del motor.
Mayor eficiencia energética.
Mantenimiento nulo.
Product Photos Ventilador de cono de gran caudal EOLO 60. El más eficiente del mundo. of EXAFAN SAU

1 Photo
Product Catalog

Product Videos
1 video
Related categories Ventilador de cono de gran caudal EOLO 60. El más eficiente del mundo.
1 Category
Ventilation material
Related Products
1 Product
Other products of EXAFAN SAU
1 producto
EXAFAN SAU

EXAFAN
Empresa líder mundial en el desarrollo de sistemas de automatización para el sector avícola.
Cuenta con una cartera que supera los 10.000 clientes.
Gracias a nuestros clientes y al esfuerzo de todo nuestro equipo hemos logrado que nuestros productos cumplan con los más altos estándares de calidad y rendimiento.
Combinando el control climático, la automatización de la alimentación entre otros muchos factores, logramos crear las condiciones óptimas, tanto para el alojamiento de los animales como para la gestión de las explotaciones.
Gracias a nuestro esfuerzo continuo en I+D+I, logramos día a día nuestros principales objetivos, el bienestar animal y el éxito de sus inversiones.
See company
Price and product availability