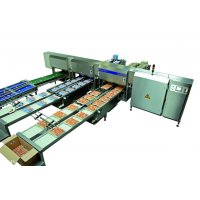 Moba automatic egg grading machines
Moba offers automatic egg grading machines in capacity ranges from 20,000 upto 180,000 eggs/hour.
Automatic egg graders are equipped to remove unwanted offgrades either manual in a candling booth or fully automated by means of detection equipment. Next, eggs are weighed and transported to packing lanes where the eggs are fully automated packed in trays or consumerpacks based on both quality and weight characteristics.
The principle of "individual egg handling" offers the best possible egghandling as the eggs do not make contact after they are placed on the machine. Since the position and characteristics of each individual egg is known throughout the process, advanced grading algorithms will improve the grading efficiency and guarantee exact traceability at the same time.
Moba automatic egg graders stand out in high net efficiency and reliability.

Prima 2000
20,000 eggs/hour
55 cases/hour
The Prima 2000 is a reliable, economical no nonsense machine. The Prima 2000 is a stainless steel egg grading and packing machine with a capacity of 20,000 eggs/hour. A machine with a relatively low investment price but by means of an Upgrade Kit, the Prima 2000 can be expanded to become a full Moba 2500 (30,000 eggs/hour) so your machine can grow together with your company needs.

Equipped with the world famous individual egg handling technology the Prima 2000 combines the best possible egghandling with maximum efficiency.
Product Videos
1 video
Related categories Moba Egg Graders: Prima 2000
1 Category
Egg graders medium to high capacity
Related Products
1 Product
Other products of MOBA B.V.
1 producto
MOBA B.V.

The Moba Group is the world leading manufacturer of egg grading, packing and processing machines. Our headoffice is situated in Barneveld, the Netherlands. With development, manufacturing, sales and -most important- service in multiple locations it is the aim of Moba to offer global solutions and be close to its customers at the same time.
See company
Price and product availability