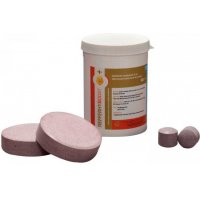 ¡ Una pastilla efervescente durante los golpes de calor !

REFFERHYBOOST PLUS es un suplemento nutricional que tiene como objetivo la estabilización del balance de los electrólitos y del agua durante los golpes de calor.
REFFERHYBOOST PLUS es un concentrado de electrólitos, vitamina C y polifenoles que aumenta la toma de agua, rehidrata y estimula el apetito de los animales.
Product Videos
1 video
Related categories REFFERHYBOOST PLUS
1 Category
Poultry nutraceuticals: heat stroke protection
Related Products
1 Product
Other products of NEW BORN ANIMAL CARE
1 producto
NEW BORN ANIMAL CARE

NEWBORN ANIMAL CARE is located in Brittany - France, where is also located our group: LE GOUESSANT
NEWBORN ANIMAL CARE is a subsidiary of LE GOUESSANT group, specialized in animal nutrition. Six factories and over 680 employees work for our group. It devotes an average of 6 millions euros each year to research.
High automated processes, important and diversified logistical means contribute to the research of reduced manufacturing costs and to the guarantee of the quality of the products, respecting the environment. 
A highly specialized team of nutritionists, veterinarians, engineers and technicians work in close partnership to provide the latest progress, and more efficient products in animal nutrition.
See company
Price and product availability