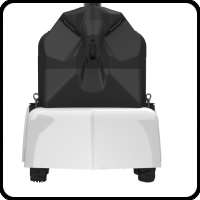 Octopus Basics is a versatile robot for a variety of uses, from heavy load transport to monitoring. It adapts according to your needs.
The size of the chassis and its weight allow us to ship a large volume of batteries allowing a range of monitoring mode of more than 20 hours. Also, we use a non-contact induction charging system.
Battery characteristics: 100 A / hour; 14 kg.
The chassis of our robots include all the engine, batteries and all the management electronics of the whole. They are equipped with 4 high power brushless motors allowing onboard loads up to 100 kg. They also have 4 driving wheels guaranteeing a use on all terrains. What's more, the waterproof structure allows amphibious use (land and water).
Product Videos
1 video
Related categories OCTOPUS BASICS
1 Category
Poultry robots
Related Products
1 Product
Other products of OCTOPUS ROBOTS
1 producto
OCTOPUS ROBOTS

Founded in 1987 in Cholet (France), Octopus Robots (formerly named MCAI) is a leading company at an international level in the design, manufacture and marketing of mobile, autonomous, intelligent and modular robots devoted to specific tasks one would not expect to be performed by robots.
In 2015, thanks to its expertize in electronics, automative, artificial vision, Octopus Robots pioneered the development of a line of innovative robots including a line of "sanitary robots" intended to efficiently decontaminate extensive buildings such as livestock buildings, large food warehouses but also airports and shopping malls. Octopus Robots is also developing robots to monitor sensitive sites where protection is a top priority.
See company
Price and product availability