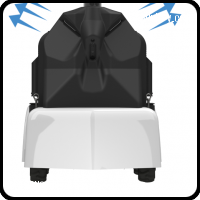 The Octopus Biosafety robot is designed to decontaminate equipment and buildings of large volumes such as warehouses and food factories, airports' terminals, shopping malls and other buildings receiving public.
It spreads on a large scale biocides in aerosol form (microscopic liquid particles). The biocide particles are diffused on all surfaces (360°) including those that seem inaccessible or hidden.
Thanks to its mobility, it manages to distribute targeted or broad-spectrum biocides in a homogeneous way throughout the targeted volume and to destroy the microorganisms (multi-resistant bacteria or other pathogens) by overcoming the constraints of air flow and temperature gradients.
Product Videos
1 video
Related categories OCTOPUS BIOSAFETY
1 Category
Poultry robots
Related Products
1 Product
Other products of OCTOPUS ROBOTS
1 producto
OCTOPUS ROBOTS

Founded in 1987 in Cholet (France), Octopus Robots (formerly named MCAI) is a leading company at an international level in the design, manufacture and marketing of mobile, autonomous, intelligent and modular robots devoted to specific tasks one would not expect to be performed by robots.
In 2015, thanks to its expertize in electronics, automative, artificial vision, Octopus Robots pioneered the development of a line of innovative robots including a line of "sanitary robots" intended to efficiently decontaminate extensive buildings such as livestock buildings, large food warehouses but also airports and shopping malls. Octopus Robots is also developing robots to monitor sensitive sites where protection is a top priority.
See company
Price and product availability