Cascadora para huevo entero MICRO 25 Alerta
A product of PELBO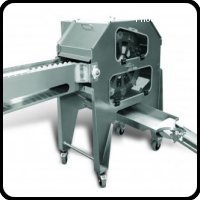 MICRO 25 tiene una capacidad de producción regulable de 900 a 9.000 huevos/hora. Es la cascadora de la linea Pelbo destinada a las pequeñas plantas de quebrado, todas las empresas alimentarias: fábricas de pasta, pastelerías, panaderías y compañías que necesiten quebrar y separar el huevo fácil y rápidamente. Sus reducidas dimensiones le permiten situarse incluso en los locales más pequeños. MICRO 25 monta un sistema de carga manual. La cascadora MICRO 25 puede suministrarse junto a diferentes tipos de lavadoras para huevos, con y sin cepillos, con boquillas de aspersión y recirculación de la solución de lavado. MICRO 25 adopta un sistema de separación con canaleta, obtienendo así una separación perfecta de yema y clara. Esto unido a la especial disposición del tanque de recolección de líquido asegura un trato delicado a la yema, evitando de este modo cualquier rotura. Construida con los mismos componentes que las cascadoras de gran capacidad de producción, MICRO 25 garantiza un funcionamiento fiable y duradero. MICRO 25 se ha fabricado siguiendo las normativas más estrictas en materia higiénico-alimentaria, siendo cada una de sus partes fácilmente lavables.

Product Videos
1 video
Related categories Cascadora para huevo entero MICRO 25
1 Category
Egg industrialization equipments (egg product)
Related Products
1 Product
Other products of PELBO
1 producto
PELBO

Pelbo SpA is a global leading manufacturer of Egg Processing Equipment for the Industry of pasteurized liquid egg production. Founded in the early 80s Pelbo Spa has matured a solid experience in design and manufacturing of highly specialised equipment for pharmaceutical and food industry. While HQ ,R&D and manufacturing are based in Italy Pelbo is acting globally with Pelbo Americas Corporation based in the US and growing sales and service network to support customers based in all Continents. Pelbo main portfolio includes Egg Breaking / Separating systems with processing range from 900 to 180.000 eggs per hour, Egg Loaders, Egg Products manual and automatic filtering systems, Egg Product Pasteurizers and system components, Egg washers, Egg Shell treatment and CIP cleaning systems. Pelbo supports the IEC - International Egg Commission - and UEA/UEP – United Egg Association - for the development of Egg Industry worldwide.
See company
Price and product availability