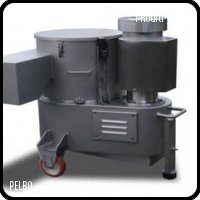 La centrífugadora SC 280 tiene una capacidad máxima de 216.000 cáscaras/hora.
Con este modelo se han introducido cambios que garantizan fiabilidad y larga duración, resolviendo además los problemas de mantenimiento.
El diseño reforzado en todas las partes permite la resistencia ante cualquier solicitación; los árboles de transmisión y las correas tienen unas dimensiones que aseguran un funcionamiento duradero, con el fin de eliminar el deterioro por uso y dan así un servicio continuo y reducen el mantenimiento.
La centrífugadora SC 280 no utiliza casquillos de bronce; por el contrario, monta solo cojinetes dotados con un sistema automático de engrasado que garantiza una mayor duración.
La centrifugadora está construida por entero en acero inoxidable, para asegurar su carácter higiénico, además es fácilmente desmontable para el lavado cotidiano.

Product Videos
1 video
Related categories Centrifugadora SC280
1 Category
Egg industrialization equipments (egg product)
Related Products
1 Product
Other products of PELBO
1 producto
PELBO

Pelbo SpA is a global leading manufacturer of Egg Processing Equipment for the Industry of pasteurized liquid egg production. Founded in the early 80s Pelbo Spa has matured a solid experience in design and manufacturing of highly specialised equipment for pharmaceutical and food industry. While HQ ,R&D and manufacturing are based in Italy Pelbo is acting globally with Pelbo Americas Corporation based in the US and growing sales and service network to support customers based in all Continents. Pelbo main portfolio includes Egg Breaking / Separating systems with processing range from 900 to 180.000 eggs per hour, Egg Loaders, Egg Products manual and automatic filtering systems, Egg Product Pasteurizers and system components, Egg washers, Egg Shell treatment and CIP cleaning systems. Pelbo supports the IEC - International Egg Commission - and UEA/UEP – United Egg Association - for the development of Egg Industry worldwide.
See company
Price and product availability