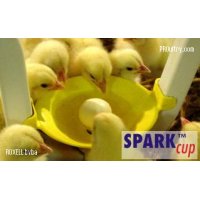 Unique cup drinking system for all poultry types
Fast growth from day one
Float balls keep cups filled with water during the starting period.
High flow rate: 500-600 ml/min.
Excellent hygiene, easy to maintain
SPARKcup TM keeps your litter dry.
Full straight-thru flushing concept.
Self-cleaning cups.
For all poultry
Cups can easily be switched.
Full freedom of movement for all types of birds.
Product Catalog

Product Videos
1 video
Related categories SPARKcup
1 Category
Drinkers
Related Products
1 Product
Other products of ROXELL bvba
1 producto
ROXELL bvba

Roxell bvba, located in Maldegem, Belgium, is the worldwide leader in livestock production systems. Our success and reputation are based on our distinct product innovations, a sound investment policy and the talent and dedication of our 300 employees and more than 150 distributors all over the world. With 80 million Euro and an excellent profitability, Roxell is an important business unit of CTB (with a turnover of 1 billion Dollar).
See company
Price and product availability