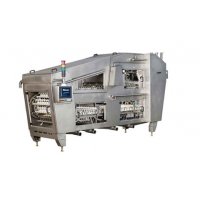 SANOVO OptiBreaker
Egg breaking and separating machines
For egg breaking and separation for large capacities SANOVO TECHNOLOGY A/S has developed the OptiBreaker.
The OptiBreaker is designed for high performance factories who require the most advanced separation technology available.
OptiBreaker Basic 2 - 21.600 eggs/hour
OptiBreaker 6 – 66.600 eggs/hour
OptiBreaker 8 – 90.000 eggs/hour
OptiBreaker 12 – 135.000 eggs/hour
OptiBreaker 16 – 180.000 eggs/hour
OptiBreaker 18 – 216.000 eggs/hour
Product Videos
1 video
Related categories SANOVO OptiBreaker
1 Category
Egg industrialization equipments (egg product)
Related Products
1 Product
Other products of Sanovo Technology Group
1 producto
Sanovo Technology Group

The SANOVO TECHNOLOGY GROUP comprises five innovative companies: Sanovo, Staalkat, Italproject, Process Solutions and Rame-Hart.
The combination of these 5 companies in one global group has allowed us to merge synergies across the board and work with the industries in a united effort to ensure a product range that exceeds what you expect, a performance, you can depend on.
All products pass an extensive test in our facilities before being shipped to customers located in every corner of the world. New products are constantly being developed, and considerable emphasis has always been based on innovation and product functionality. 
Focus on research and development is a key issue allowing us to continue to design and supply total solutions for our customers. Our products meet international requirements and standards, and, as a turnkey supplier, SANOVO TECHNOLOGY GROUP offers every aspect of the construction of an egg processing plant – from building design over layouts, engineering...
See company
Price and product availability