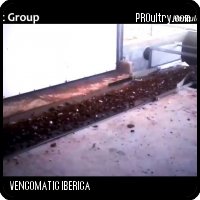 The durable Hercules Cross Conveyor, with its compact and simple design, is a reliable and easy way to remove manure out of the house. As the need for a manure pit inside the house is redundant the frameless conveyor belt can be installed in both new and existing houses.


Increases labour efficiency.


Provides a hygienic environment.


Saves the significant cost of installing a manure channel.


Product Videos
1 video
Related categories Hercules Cross Conveyor
1 Category
Droppings, withdrawal systems
Related Products
1 Product
Other products of VENCOMATIC IBÉRICA
1 producto
VENCOMATIC IBÉRICA

Vencomatic es fabricante mundial de soluciones de alojamiento innovadoras y respetuosas del bienestar de los animales para el sector avícola. Las numerosas posibilidades ofrecidas por las soluciones flexibles y 'llave en mano' de Vencomatic son aplicables a una amplia gama de conceptos en la avicultura. Ponemos nuestros conocimientos y experiencia profesional al servicio de los avicultores para permitirles obtener los mejores resultados y los más altos rendimientos.
Desde su fundación en 1983, Vencomatic ha destacado como empresa innovadora del sector avícola. La empresa desarrolla, produce y comercializa una amplia gama de sistemas avícolas. Gracias a nuestra larga experiencia en la construcción de sistemas alternativos de alojamiento y recolección de huevos, la flexibilidad de nuestra organización y la dedicación de nuestra plantilla, Vencomatic es capaz de ofrecer soluciones completas y sólidas adaptadas a cada situación. También realizamos proyectos 'llave en mano'.
La sede de Vencomatic...
See company
Price and product availability