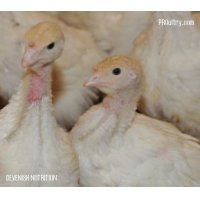 AlphaStart Turkey is a unique product that matches the requirements of the day old poult and delivers optimum performance from the start.
What is AlphaStart Turkey?
AlphaStart Turkey is a high quality mini pellet prestarter for growing turkeys. Made up of a range of highly digesti¬ble ingredients, AlphaStart Turkey is based on our unique proprietary DevAmine™ technology. This supports a high Glycaemic Index effect and supplies optimum protein requirements to enable amino acid sparing and efficient protein utilisation. It also contains a specific mix of vitamins and trace elements designed for optimal early needs.
AlphaStart Turkey is supplemented with a specific blend of key ingredients and nutritional aids to support early gut maturation, improve early digestion and boost the immune function.
What are the benefits to the producer?
Trials have shown, birds fed Alphastart Turkey for the first 14 days of life had:
Improved early intakes and crop fills
Less feed wastage in brooding period
Improved uniformity
Higher growth rates
How is AlphaStart Turkey fed?
AlphaStart Broiler is a short cut 2mm pellet that is fed for the first 14 days instead of commercial starter crumb.
Product Catalog

Product Videos
1 video
Related categories AlphaStart Turkey
1 Category
Starter feed
Related Products
1 Product
Other products of Devenish Nutrition
1 producto
Devenish Nutrition

We are committed to providing products and services that surpass our customer´s expectations.
Devenish Nutrition is a leading edge agri-technology company Headquartered in Belfast, Northern Ireland, with production facilities in Widnes and Killamarsh in the UK and Maquoketa and Iowa in the US. We are a company dedicated to the research, development, and manufacturing of quality premixes, pre-starters, starters and concentrates together with speciality products for the intensive livestock sector.
Our strengths lie in the Pig, Poultry, Ruminant, Companion Animal and Horse sectors, where we have invested in large scale Research and Development into nutrition and environmental issues. In addition to our cost effective range of products we offer our customers tailored nutritional services and technical service support agreements.
The poultry team at Devenish Nutrition provide bespoke technical solutions and nutritional formulations to increase production efficiencies and resolve a wide variety...
See company
Price and product availability