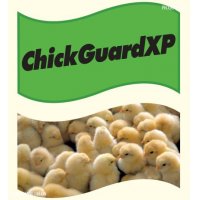 ChickGuard is a natural, antibiotic-free additive for inclusion in poultry feeds. The product delivers protected fatty acids and selected plant oil, herb and spice extracts, to provide a range of beneficial effects proven by extensive in vitro and in vivo studies in poultry.
What are the benefits to the producer?
ChickGuard inhibits proliferation of pathogenic bacteria and modulation of indigenous bacteria, to improve health, immune status and performance.
Trials show its ability to assist in the control of adverse intestinal challenges in poultry.
Other features associated with ChickGuard are:
It is protected and provides a targeted release of ingredients in the lower small intestine
It helps to promote digestion and absorption of nutrients
How is ChickGuard used?
Recommended to be used as a complimentary feedstuff for use in poultry diets:
Starter feeds 1.5 kg /tonne complete feed
Grower feeds 1.0 kg /tonne complete feed
Finisher feeds 0.5 kg /tonne complete feed
Withdrawal feeds 0.25 kg /tonne complete feed
Product Videos
1 video
Related categories ChickGuard
1 Category
Essential fatty acids
Related Products
1 Product
Other products of Devenish Nutrition
1 producto
Devenish Nutrition

We are committed to providing products and services that surpass our customer´s expectations.
Devenish Nutrition is a leading edge agri-technology company Headquartered in Belfast, Northern Ireland, with production facilities in Widnes and Killamarsh in the UK and Maquoketa and Iowa in the US. We are a company dedicated to the research, development, and manufacturing of quality premixes, pre-starters, starters and concentrates together with speciality products for the intensive livestock sector.
Our strengths lie in the Pig, Poultry, Ruminant, Companion Animal and Horse sectors, where we have invested in large scale Research and Development into nutrition and environmental issues. In addition to our cost effective range of products we offer our customers tailored nutritional services and technical service support agreements.
The poultry team at Devenish Nutrition provide bespoke technical solutions and nutritional formulations to increase production efficiencies and resolve a wide variety...
See company
Price and product availability