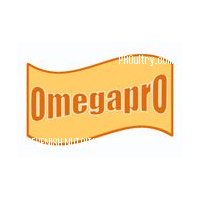 Omegapro can enhance the nutritional value of poultry products as a functional feed ingredient.

Omega-3 fatty acids have been scientifically demonstrated to promote heart health and cognitive development in children. Increased Omega-3 levels can also enhance the eating value of the meat, making it more succulent and juicy.

Omegapro is a feed ingredient containing Omega-3 fatty acids and plant extracts, designed to be fed in diets over the finishing or laying period to enhance the Omega-3 content of the meat or eggs. Omegapro is custom-designed to meet requirements, containing graded levels of short- and long-chain Omega-3 fatty acids from either marine or vegetable origin.

What are the benefits to the producer?
Omegapro is suitable for all forms of poultry. Its unique manufacturing process gives the product its consistent ability to:
Enrich poultry meat or eggs with required levels and proportions of Omega-3 fatty acids.
Increase the meat succulence
Enhance the flavour and eating experience
Promote healthy birds

How is Omegapro used?
Omegapro can be fed in diets up to 15%, to achieve the desired level of Omega-3 fatty acids.
Fattening birds - feed from 21 days before slaughter
Laying hens - Eggs will reach their stabilized level within 21 days of feeding
Product Videos
1 video
Related categories OmegaPro
1 Category
Essential fatty acids
Related Products
1 Product
Other products of Devenish Nutrition
1 producto
Devenish Nutrition

We are committed to providing products and services that surpass our customer´s expectations.
Devenish Nutrition is a leading edge agri-technology company Headquartered in Belfast, Northern Ireland, with production facilities in Widnes and Killamarsh in the UK and Maquoketa and Iowa in the US. We are a company dedicated to the research, development, and manufacturing of quality premixes, pre-starters, starters and concentrates together with speciality products for the intensive livestock sector.
Our strengths lie in the Pig, Poultry, Ruminant, Companion Animal and Horse sectors, where we have invested in large scale Research and Development into nutrition and environmental issues. In addition to our cost effective range of products we offer our customers tailored nutritional services and technical service support agreements.
The poultry team at Devenish Nutrition provide bespoke technical solutions and nutritional formulations to increase production efficiencies and resolve a wide variety...
See company
Price and product availability