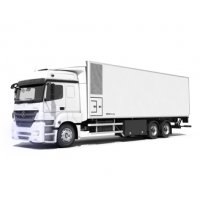 The Heering 90 is proven under extreme climate and road conditions. Inside the transport system, a specially designed airflow system distibutes air evenly over the rows of chick boxes. Heat, water vapour and CO₂are removed through air outlets and a recirculation duct. The body temperature of the chicks remains between 39.5 and 40.5 ̊C.

For day old chicks not yet fully able to control their own body temperature, the finite control of air speed, air temperature and heat production creates a mobile hatchery environment, for healthy chicks on delivery.
Product Catalog

Product Videos
1 video
Related categories HEERING 90
1 Category
Special chick transport
Related Products
1 Product
Other products of HEERING B.V.
1 producto
HEERING B.V.

Heering is one of the world's leading manufacturers of day old chick transport, having been pioneers in the development of innovative and sustainable transport technologies since 1865. Driven by quality improvement, we work closely with leading hatcheries to consistently pursue extensive biological and technical research. This enables us to continually improve our products. Heering's comprehensive understanding of all aspects of the poultry production chain offers you complete confidence and peace of mind for many years to come.
 
See company
Price and product availability