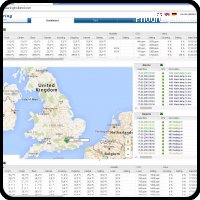 Viv Europe - Stand 7.D095

Heering Link is a telematic system that enables online performance monitoring worldwide. In addition to monitoring temperature, relative humidity and CO2, Heering Link also provides insight into geographic and technical parameters. Our customers can leverage this data to optimise transport of day-old chicks and further improve their supply chain.

Realtime technical analyses of the vehicle are also possible. Heering has specialised in the development of innovative and sustainable transport solutions for day-old chicks. The next step is data exchange in the chain, so that hatcheries, transporters and poultry producers can join forces to improve their performance.
Product Videos
1 video
Related categories Heering Link
1 Category
Special chick transport
Related Products
1 Product
Other products of HEERING B.V.
1 producto
Product Website
www.heeringholland.com
HEERING B.V.

Heering is one of the world's leading manufacturers of day old chick transport, having been pioneers in the development of innovative and sustainable transport technologies since 1865. Driven by quality improvement, we work closely with leading hatcheries to consistently pursue extensive biological and technical research. This enables us to continually improve our products. Heering's comprehensive understanding of all aspects of the poultry production chain offers you complete confidence and peace of mind for many years to come.
 
See company
Price and product availability